School of Theatre Presents First Fringe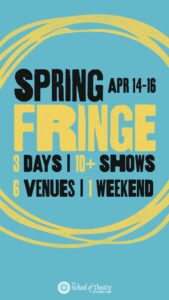 The halls, outdoor spaces and lobbies of FSU's Fine Arts Building came to life April 13-15 as FSU School of Theatre presented its first SOT Fringe.
Aaron Thomas, Assistant Professor and Co-Director of the BA Program Committee, explained:
"Fringe is a space for student performance work that doesn't know what it is yet, that tries out new ideas, that invites collaboration in unexpected ways, that involves audiences, or starts rituals, or surprises us."
The theme for the 2022 SOT Spring Fringe was No Filter.
"We wanted the students to walk around non-theatre spaces and see what speaks to them – think about how they might respond to a particular location with performance. We hope they will start creating work so they can showcase their talents without having to wait for a director to cast them or a producer to greenlight a project. Just start making stuff. No Filter."
Eleven performances were offered over the three-day festival, starting Thursday with site-specific performances from students in Hannah Fazio's course on performance art. Nine additional pieces were scheduled for Thursday, Friday, and Saturday evening, including sketch comedy, improvisation, music performance, staged readings, and more.
In student Fatima Beneby's performance piece "Ask a Magical Creature!" she created four characters who answer questions from audience members, who also get to choose the character Beneby would play when answering.
"The idea was built off an assignment for my performance art class. I first envisioned the caricature of blackness that I often view in the media, and comparing that to other mythical creatures I embraced in my childhood."
For Ace of the Swords, the longest performance in the Fringe, Andres Larrea and Linoi Chemla directed a crew of six actors to perform a farcical interpretation of the tragedy of King Arthur. The audience chose which actors played which characters each night, and the ensuing comedy called for audience interaction and madcap hilarity.
Other performances included a mysterious dance/movement piece in the basement of the theatre and a monologue performance about the actress and producer Eva Le Gallienne performed in front of the theatre's main doors.
---
Full Program of Performances
Four Wishes
Aaron Farabaugh and Kiyrax Davis perform a hilarious sketch involving a magic lamp and a genie with the ability to grant your comic wishes.
Ace of Swords
Five actors play twenty characters in a madcap, interactive retelling of the Tragedy of King Arthur. This ensemble of actors will play all twenty characters to the best of their abilities, but they have to stay on their toes since every night the audience will vote on who plays which track. Written by Javi Mederos Created by Javi Mederos & Oscar J. Berlanga.
Inside the Mind of Edmund Wolfe
Conceived by Eddie Vargas in collaboration with Anthony Gallo and Teresa Simone, this dark, mysterious movement piece explores the psyche of a murderer as his psychiatrist uses new technology to see deeply inside his mind.
古今論 Kokonron
Three writing utensils discuss companionship, poetry, and the ideal way to express love. As they ask themselves what a writer is without a pen or a brush, they encounter fireworks in a majestic city and confront their own mortality. Written by Emily Q. Lu.
T.E.R.F. Guarding
You're on your way to the restrooms, and whom should you encounter but the T.E.R.F. Guard! Conceived and performed by Caden Wessner, this interactive performance polices the restrooms and asks tough questions.
Miss Le Gallienne Announces the New Season
Famed actress and producer Eva Le Gallienne is holding a press conference at the Civic Repertory Theater in New York to announce the opening plays for the 1932-33 season. After five wildly successful years, she had closed the theater in 1931 to take a yearlong sabbatical, but her "year off" has been filled with difficulties and surprises. Written by Carolyn Gage.
(Selections from) Fuck You, a Play about Nothing: a Love Story
This original one-act play orbits about the strange lives of Clive and Belle, two polar-opposite people, who might be in love. Through the chapters of Belle's and Clive's journals, we explore what love is not and why people may always come back to it. Playwright Nic Evans welcomes you to sit back, relax, and enjoy a love story, a play about nothing, or Fuck You.
Ask a Mythical Creature!
Press a button and ask a mythical creature a question. In this performance piece, Fatima Beneby plays four mythical creatures, each with a distinct hat, and the mythical creatures pose answers to your queries.
REDRWN+Chaos: a Rooftop Punk Rock Performance
Jerry, Kish, Steve, and Alex, Tallahassee's heaviest punk band.