FSU School of Theatre Putting the "Beauty" in Disney's Beauty and the Beast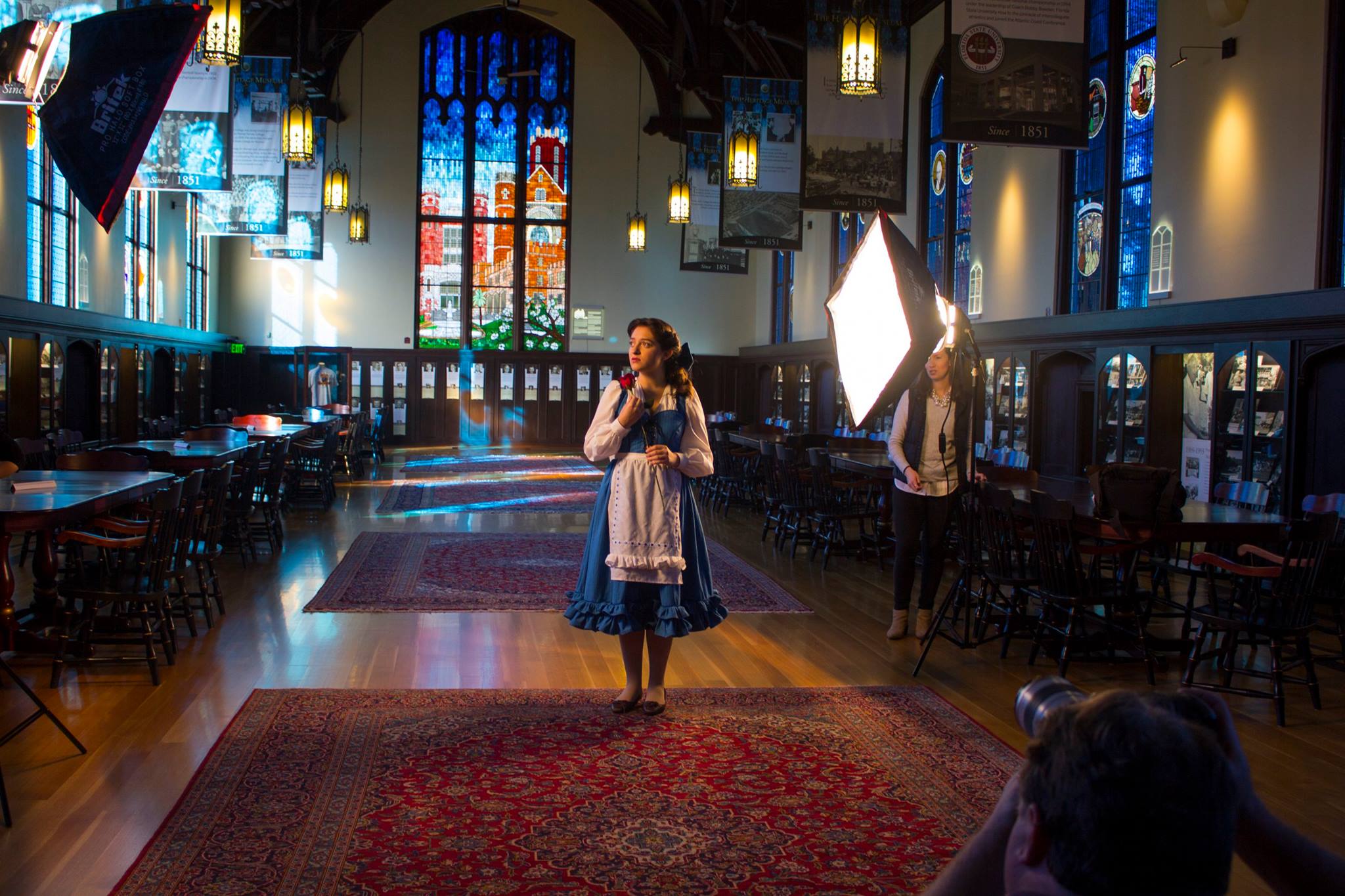 February 16 – 26, 2017
The School of Theatre at Florida State University is proud to announce its production of Disney's Beauty and the Beast which will be shown in the Richard G. Fallon Theatre from February 16 – 26, 2017.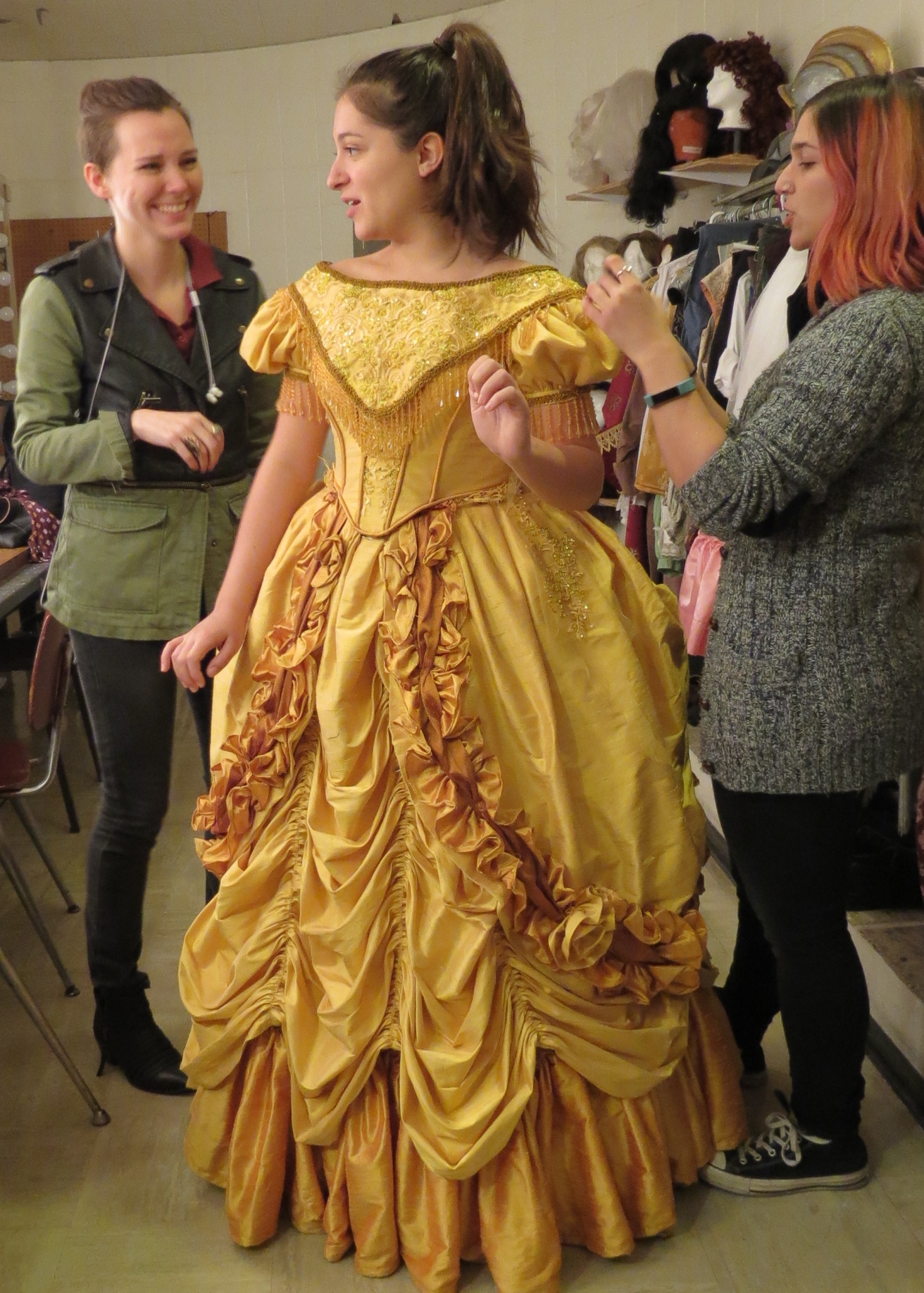 It's a "tale as old as time". Based on the Academy Award-winning animated feature, Disney's Beauty and the Beast tells the classic fairy tale of Belle (played by Katerina McCrimmon), a young French maiden who doesn't feel as if she belongs, and the Beast, a prince trapped in the body of a monster by the spell of an enchantress. In order for the Beast to become "Human Again", he must learn what it means to love and be loved before the last petal on the rose falls. Be a part of this magical experience suitable for the whole family.
Third-year MFA costume designer Rainy Edwards is putting the "beauty" in  Disney's Beauty and the Beast with her delightful costume designs. The traditionally patterned and constructed costumes are progressing with the help of many hardworking students.  The costumes are being created by our seven current MFA costume students plus a number of dedicated undergrads under the supervision of Martha Cooper and Sarah Jahnke, our new Costume Shop Manager. There are also many unique "costume crafts", such as forks, knives and spoons, being created in our temporary Costume Annex. These beautiful pieces include large items such as the wardrobe and teapot characters, as well as numerous smaller items being produced under the direction of Colleen Muscha.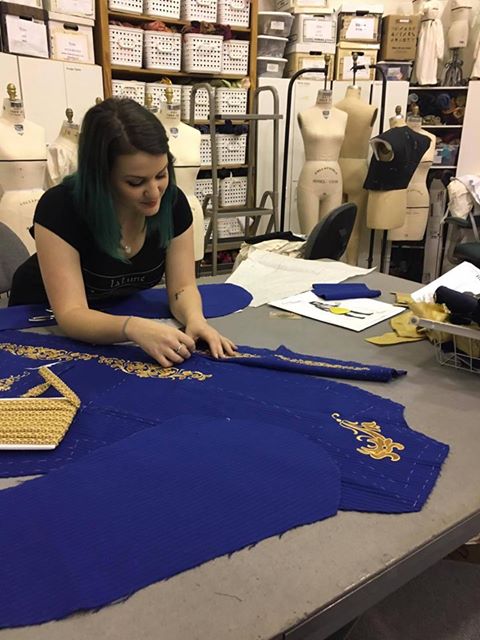 Additionally, we are extremely thankful to be supported in creating these costumes by seven of our previous MFA costume grads. In addition to Sarah Jahnke (2015), and Min Jae Kim (2016), who joined us as our Assistant Costumer in the shop this year, five other alums are also assisting in the process. Joshua Winchester (2015), currently a Costume Design Professional Intern in Imagineering at Walt Disney World, has made numerous weekend trips to assist us with crafts and painted items. Victoria Carrot (2014), currently the owner of Chicago Custom Costumes, is joining us for a week to head up the group creating prosthetics and styling the 20-plus wigs for the show. Julia Bradley (2012), who is the Costume Shop Manager for the FSU Opera, and Christina Marullo (2012), the Opera's Associate Costume Manager, and frequent designer, draped and created the "napkin ladies" costumes. We are especially grateful to Michael Johns (2006), who created the beautiful embroidery designs on the Beast's coats in his embroidery studio in Bainbridge, GA.
The many hours of hard work from all of these dedicated artists has enriched our individual experiences on this production, and hopefully will enhance everyone's enjoyment when experiencing this terrific production, opening on February 16th.
Show Times:
February 16 – 17, 2017 at 8:00 PM
February 18, 2017 at 2:00 PM* and 8:00 PM
February 19, 2017 at 2:00 PM*
February 21 – 24, 2017 at 8:00 PM
February 25, 2017 at 2:00 PM* and 8:00 PM
February 26, 2017 at 2:00 PM*
*Join us immediately following our matinee performances for the chance to meet Belle and friends!
Single Ticket Pricing:
Adult Ticket: $22.00
Senior Ticket (Age 62+): $20.00
Student Ticket: $10.00
Character Meet & Greet Package:
Adult: $22.00
Child: $5.00